Touted as the "greatest day walk" in New Zealand, the Tongariro Alpine Crossing is anything but a walk!
Especially with 3 kids aged 12 and under.
We had been inspired by the gorgeous photos of a friend who'd done the walk and another travel blog that showed a family and 3 kids make their way along the Alpine Crossing, and so we decided if they could, we could too.
It was only when we had finished it that we realised our kids (ages 8, 8 and 12) were the youngest hikers we'd seen on the track - the others were teenagers. Our transport driver also mentioned that he's not seen many kids that young before, so this was indeed a feat that they accomplished!
We won't go into too many details of the track and how to get through it in this post, as this has been reviewed in so many other blogs and website, such as the official Tongariro Alpine Crossing site.
Instead, here are our top 3 tips on what you need to know if you decide to do the Crossing with kids:
Tip 1. It's not a walk in the park
Well, yes it is a park – an awesome, amazing and breathtaking UNESCO World Heritage park at that. Recognised for its cultural, natural and spiritual values, it is indeed humbling to traverse the magnificence of the three mountains that surround the track: Towering Mount Ruapehu, ominous yet beautiful Mount Ngauruhoe (LOTR's Mount Doom after some digital "makeup") and Mount Tongariro.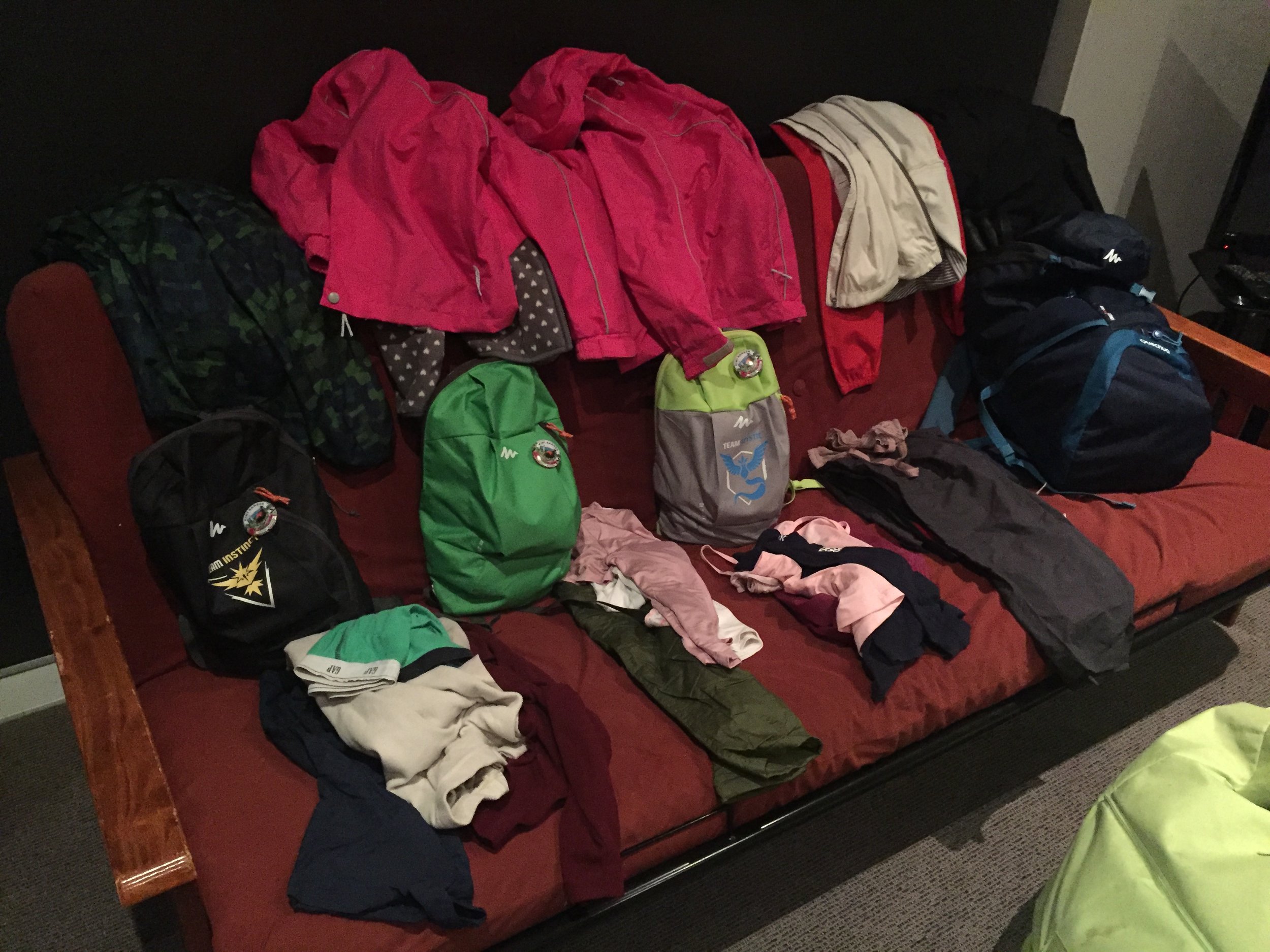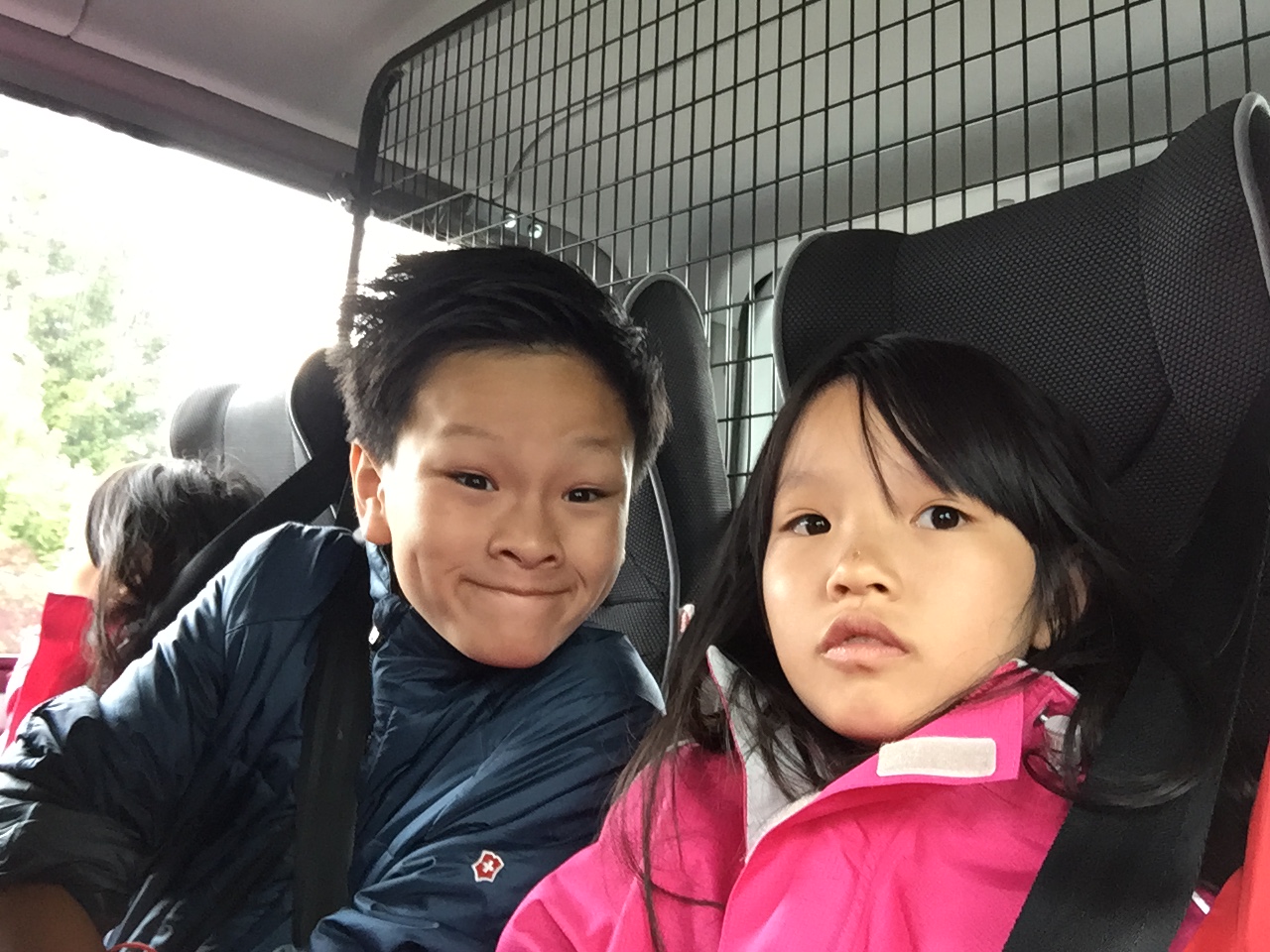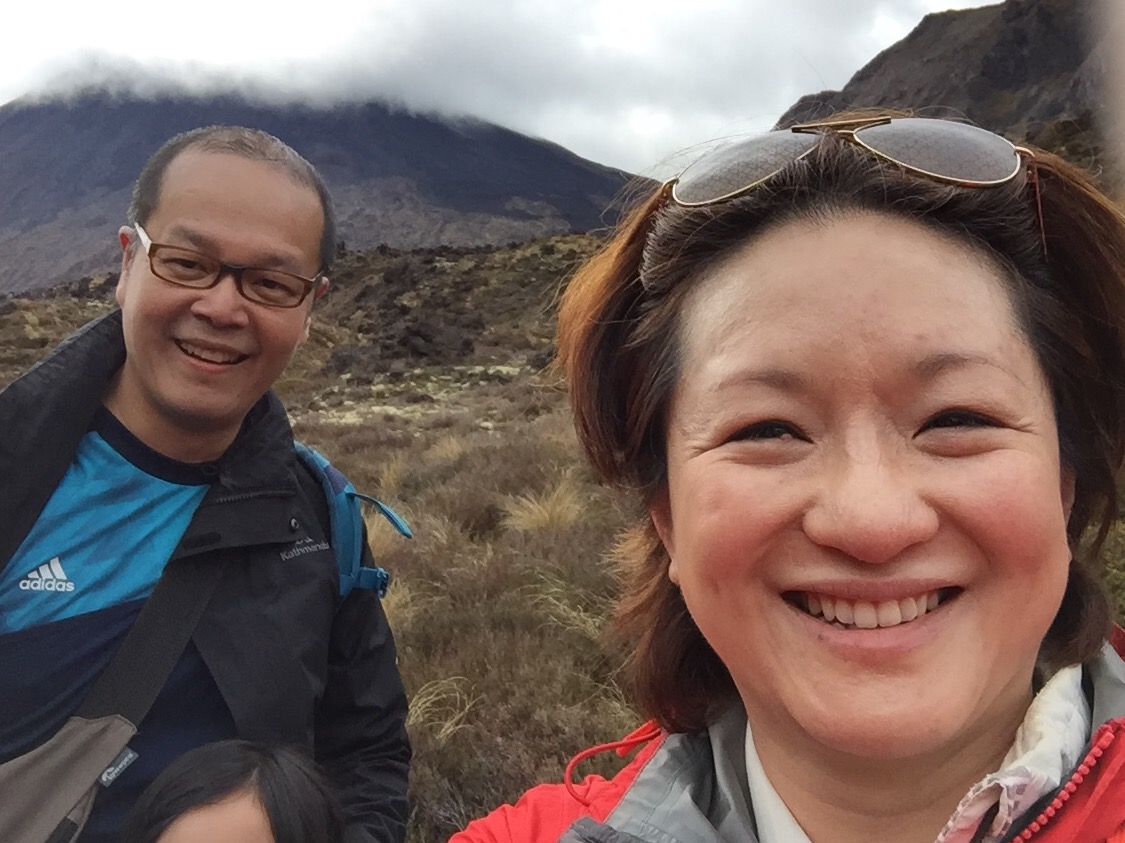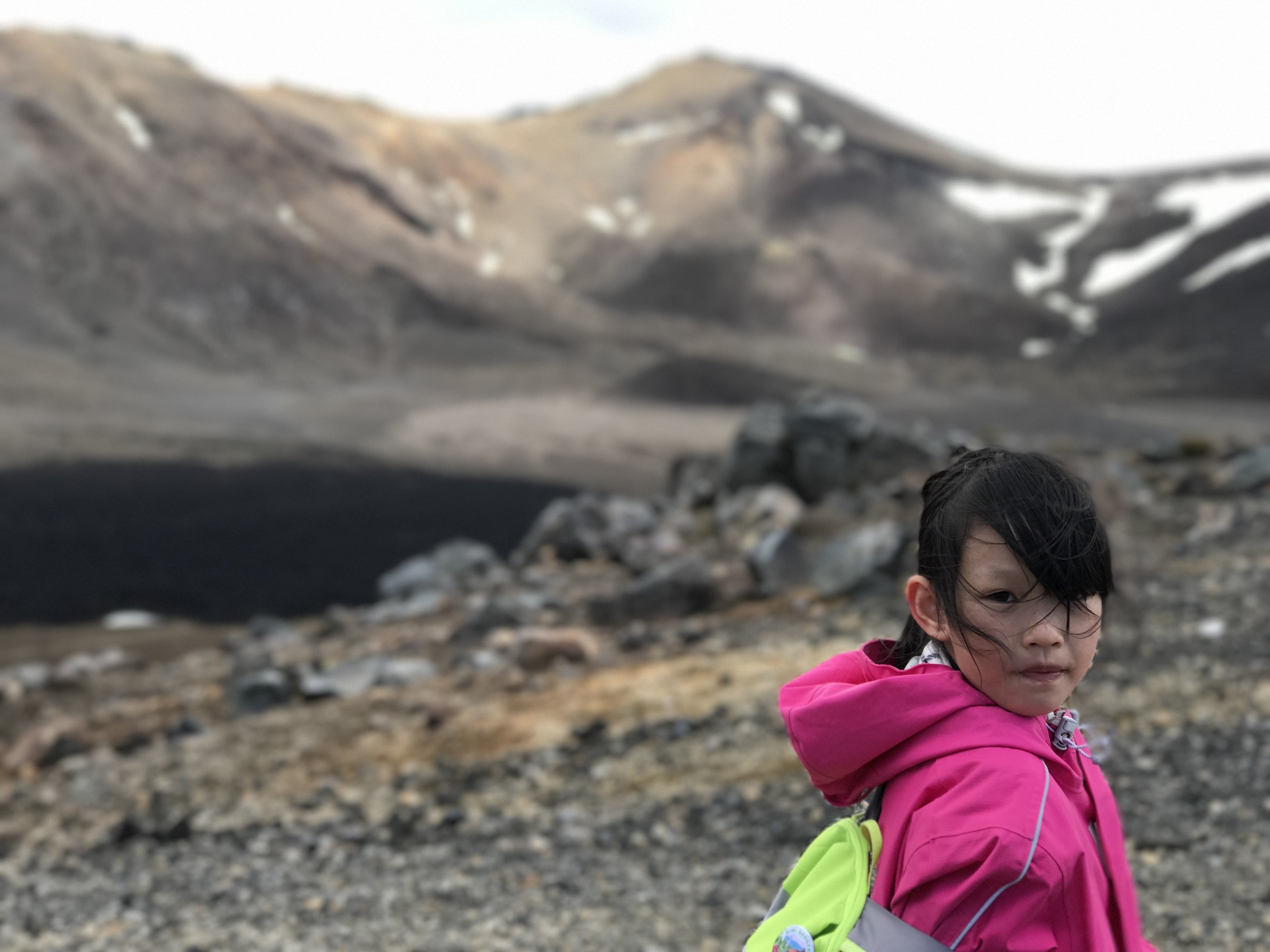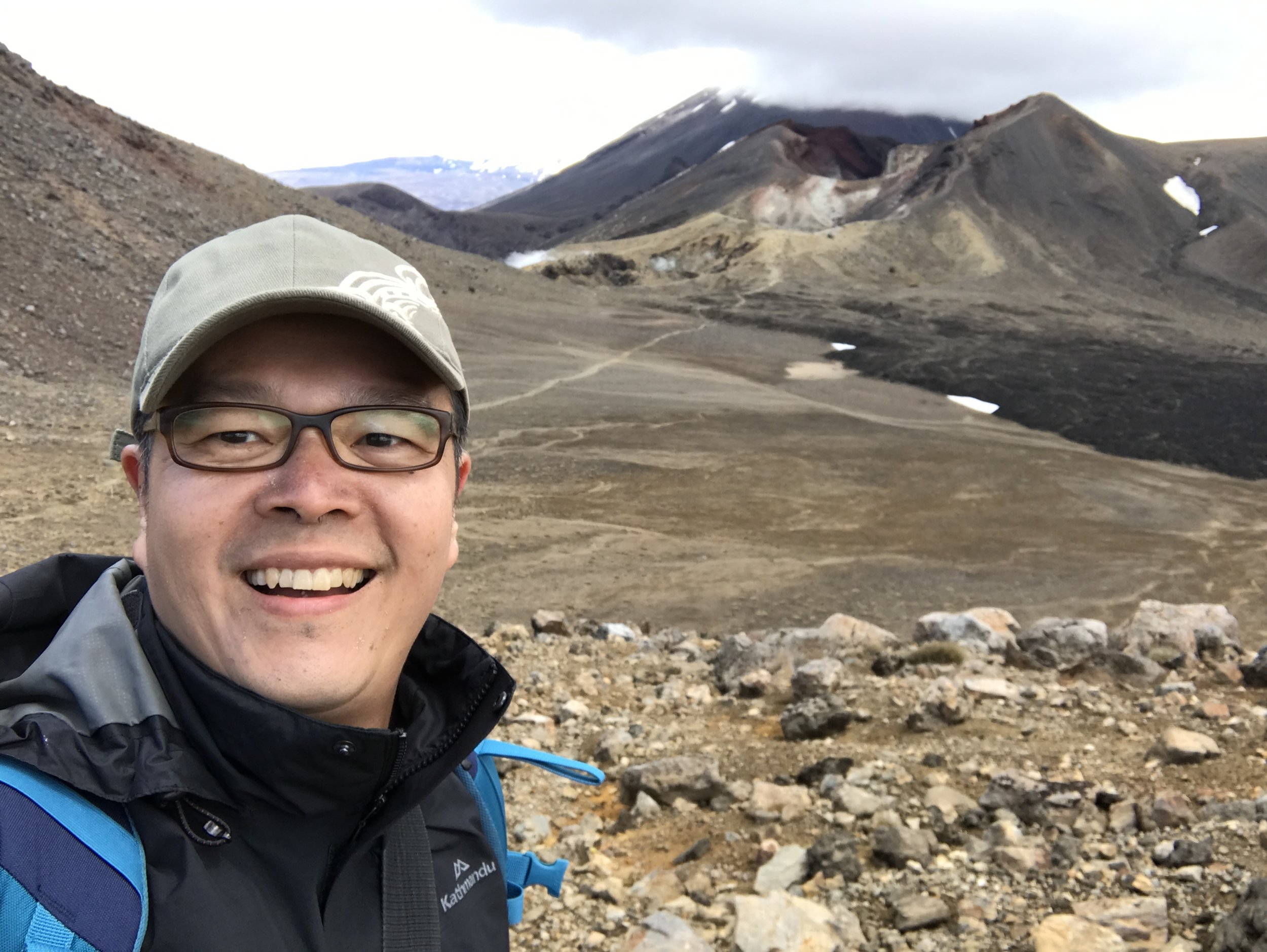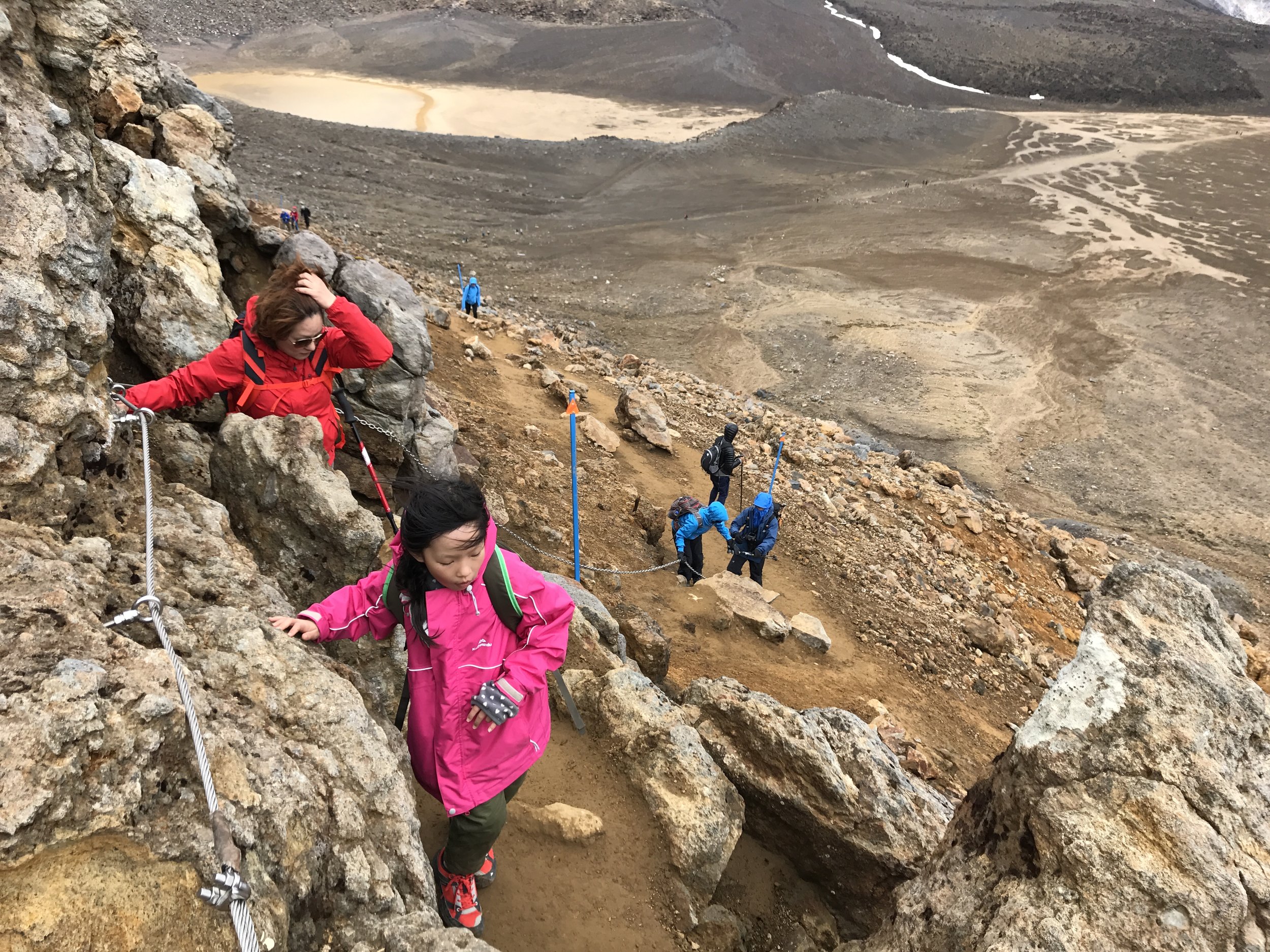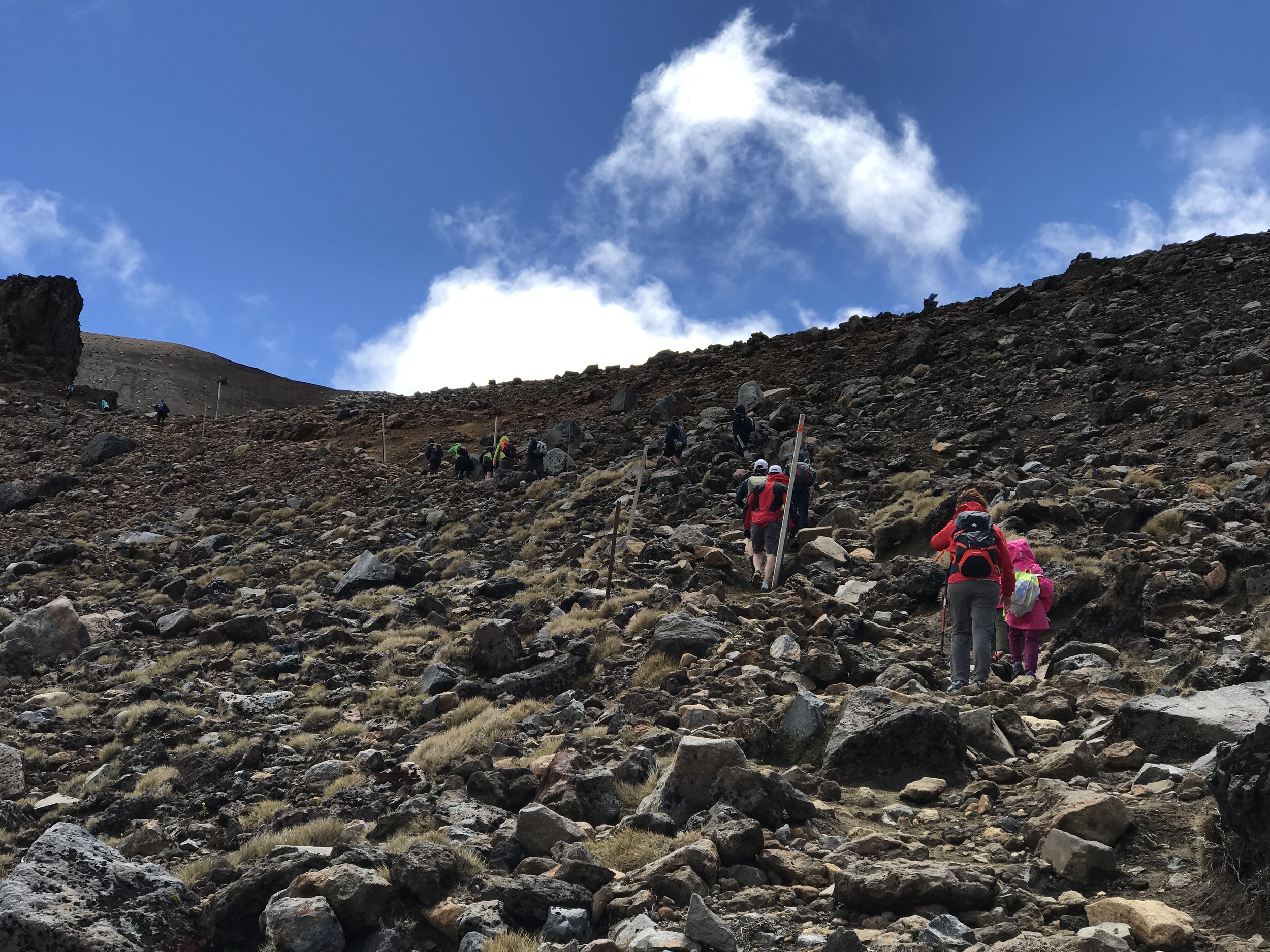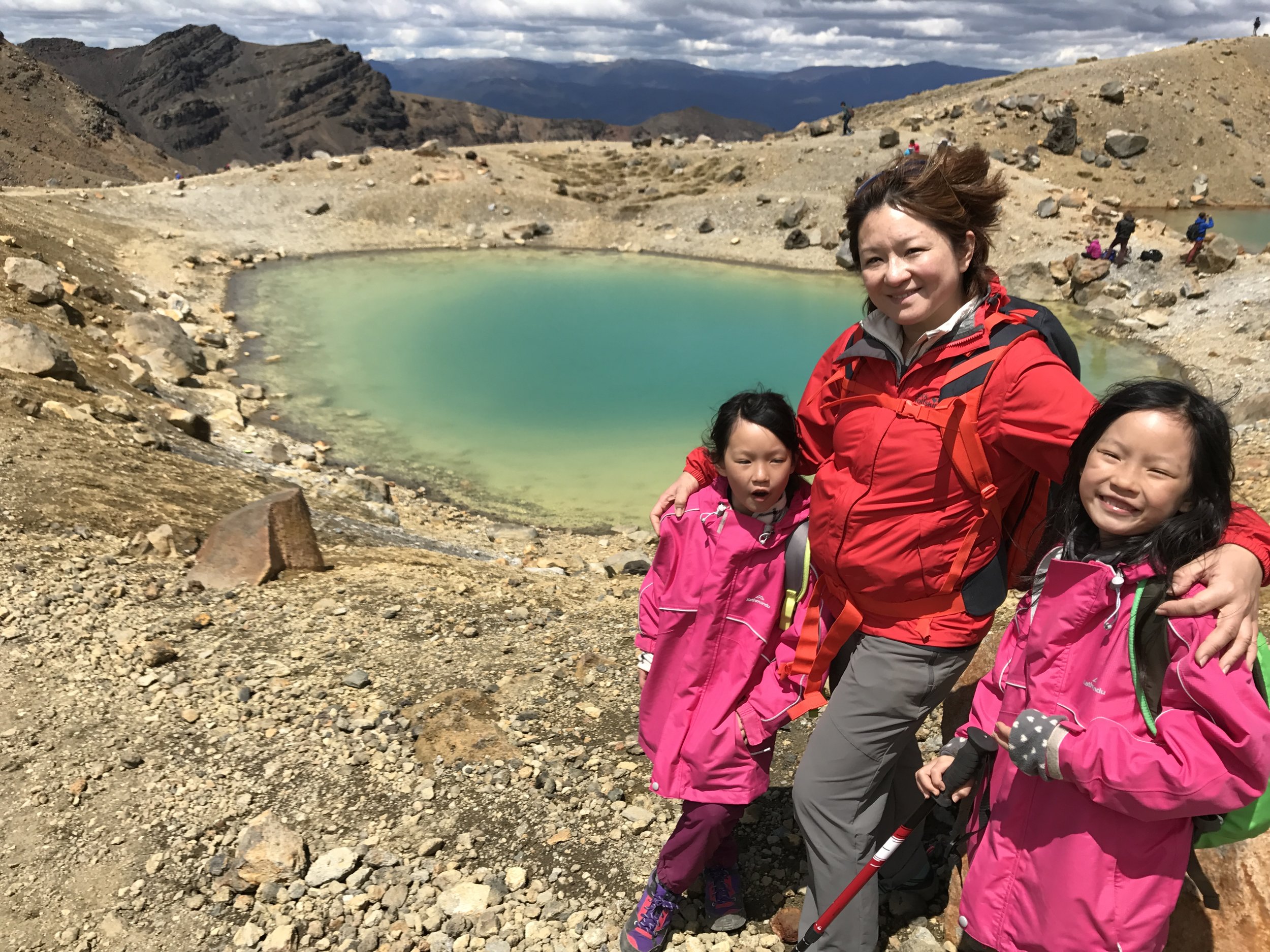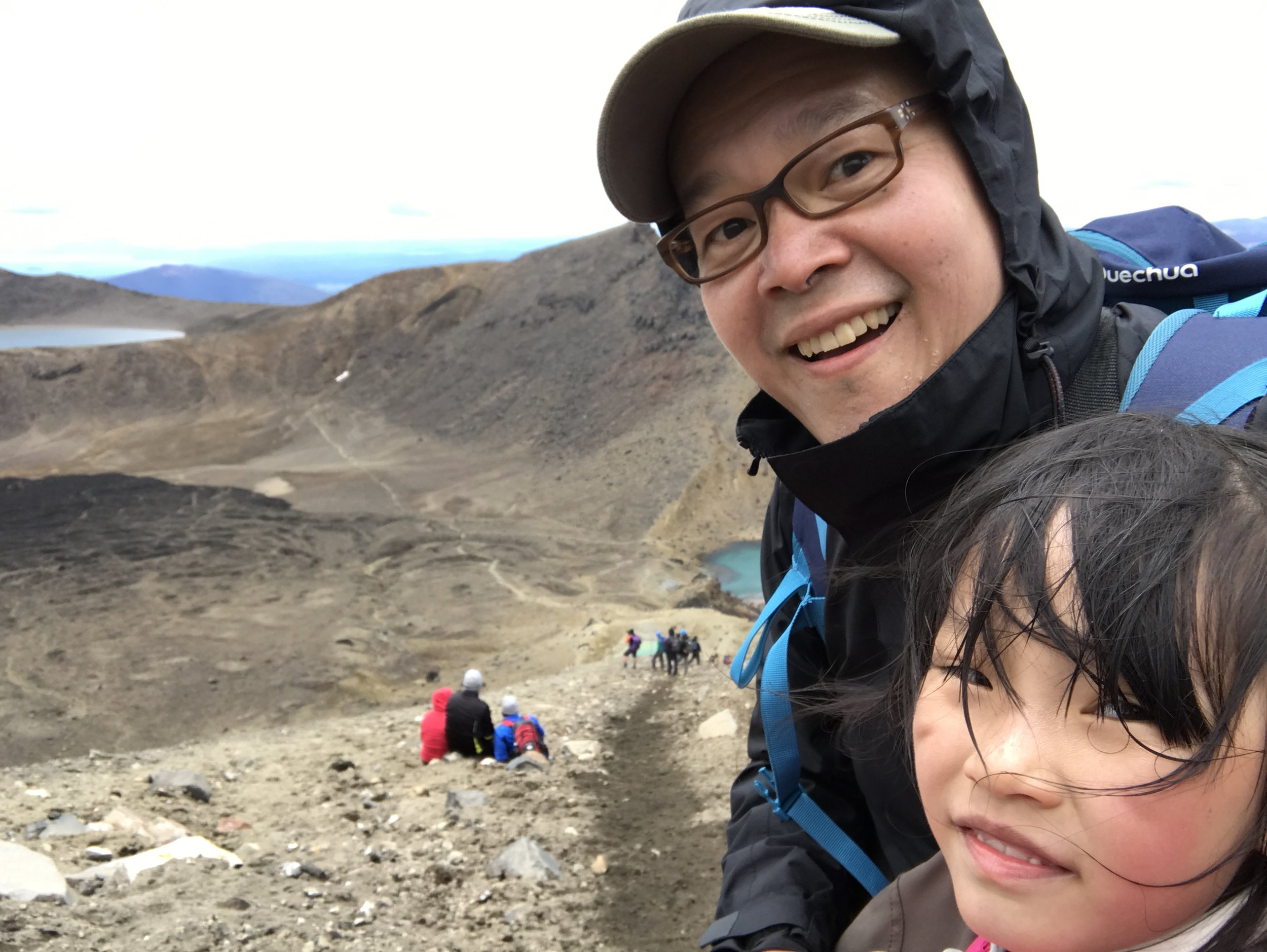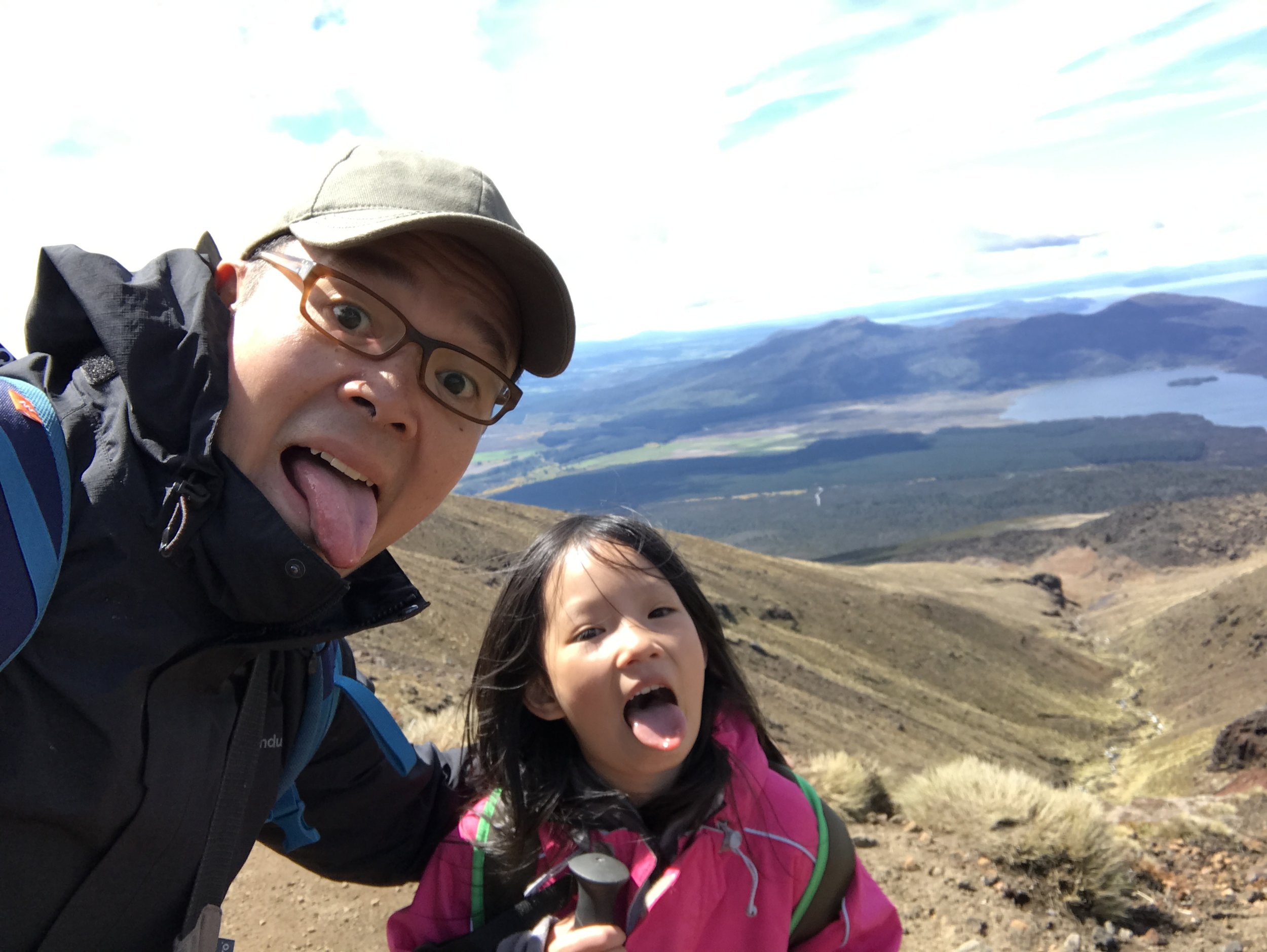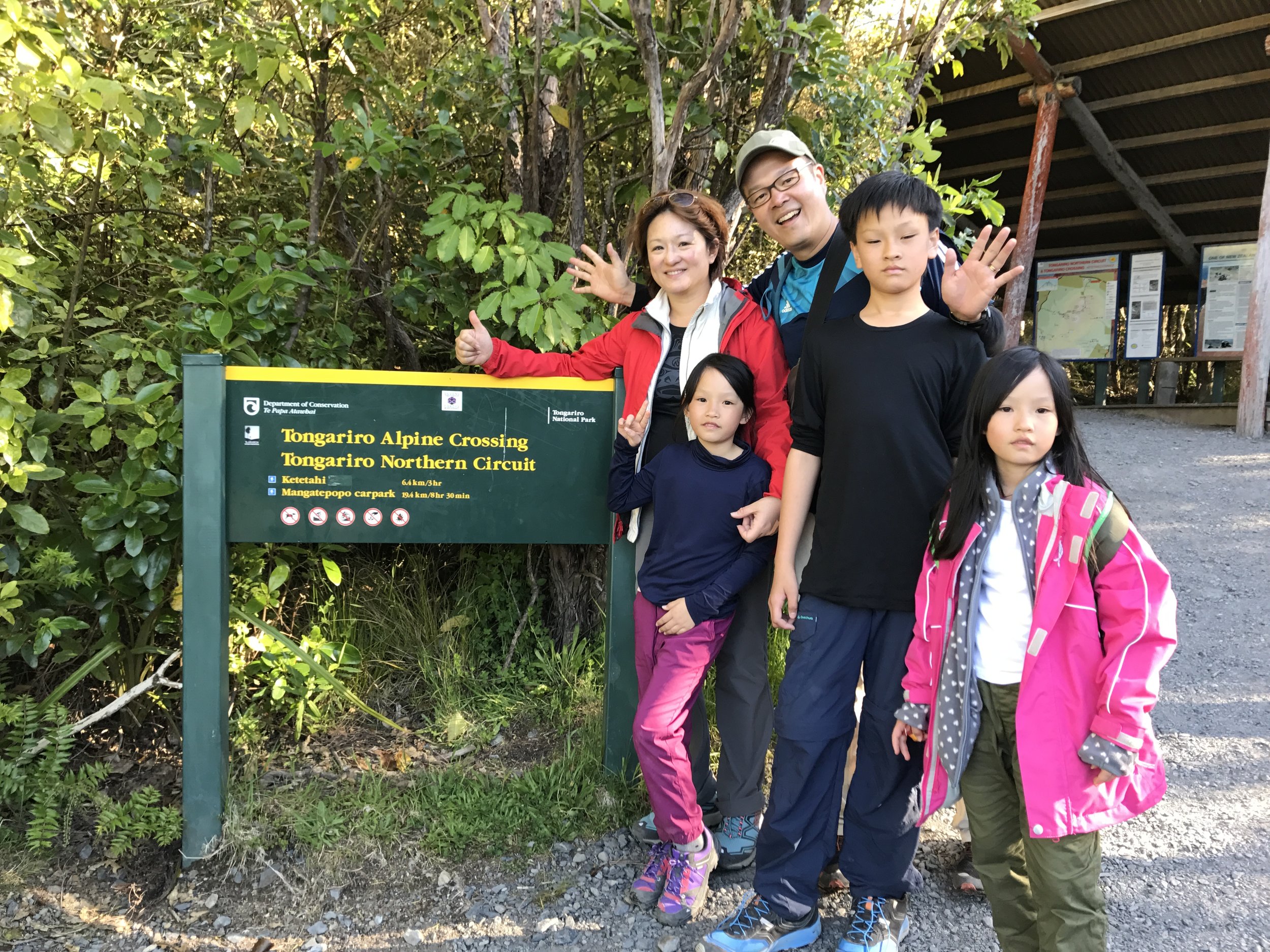 Also there's plenty of info about the various sights along the track that are worth reading about BEFORE the hike as there is no information once you are up there. If your kids are anything like ours, you should know why the Emerald lakes are green; whether that darker strip of soil in the distance is a lava flow; if you can picnic by the Blue Lake (no, it's a 'tapu' or sacred lake) and why no one has built a flying fox down the mountain after Red Crater (serious question from Adan) and it would be good for you to know some of the answers.
Also…that the lakes cannot be swum in and the water can't be consumed, due to the high mineral content and acidity level.
The volcanic scenery was breathtaking and we could see the old lava flows and some dead ice from the colder weather we had missed by a week. The kids got to enjoy their first ice/snow ball fight as well!
The walk takes some toughness of mind and tolerance of strong, cold winds…something that can't really be caught on camera. This is especially so along the Devil's Staircase, which is the track between South Crater and Red Crater. You can hear the wind in this video but nothing beats having it blowing in your faces, freezing cold (even in summer), as you drag yourself and your kids up using chains to help you up rocky craggy walls.
Which leads us to…
Tip 2. Prepare, prepare, prepare
Unless you're one of those people who get up one morning and decide to run a marathon or ultra race without training, preparation is really key, especially when you need to ensure you are capable of getting the kids across.
Prepping the body
We - very honestly - did very little physical preparation for this trek. We did a 10km walk in MacRitchie Reservoir back home in Singapore (including walking really quickly in the darkness as we had lost 2 of the kids - another story for another blog post) and the 4 hour return Mt Maunganui Summit trek in Tauranga a couple of days prior. That was IT! Thankfully I had recently done a half marathon after several months of little exercise, and the kids are generally quite fit and energetic.
Note: if your knees aren't in good shape, reconsider the walk or use KT Tape /knee guards for the walk. And bring 2 hiking poles each!!! It's tougher on the way DOWN than up (for untrained hikers)
Prepping the mind: before we left for NZ, we showed the kids videos and pictures of he Tongariro Alpine Crossing, to show them the awesomeness that awaited them.
Some of the resources we used:
The Selim Family travel blog post on Tongariro
Still, none of those blogs, videos or pictures prepared us fully for how strong the wind would be, or how tough the Devil's Staircase would be, especially having to manage the kids at the same time. They were real troopers though, and although the going got tough, they really faced the challenge with brave faces and very little complaining. Summer (our child, not the season) was team leader for the day and did a wonderful job guiding us and keeping us going!
Check out this clip where Adan asks us a variation of the question most parents on road trips or family vacations hate: "Are we there yet?"
The views and experience of doing this with the kids were so totally worthwhile though!
Prepping the gear
Here's a picture of our prep the night before.
TIP: Check the weather before you set out! And always bring more than you think you need without over burdening yourselves. A delicate balancing act, as it always is when holidaying with kids!
Although we managed to keep our suitcases fairly orderly with makeshift packing cells (we used large, lightweight shoe bags until we found some lovely Kathmandu ones on sale!) our things were in slight disarray because we arrived in Ohakune – a little ski town at the base of the Tongariro National Park - later in the day than planned (thanks to a long dip at Kerosene Creek in Rotorua), and had to eat dinner, prepare the meals for the hike, and prepare the hiking bags within a space of 2 hours.
Because this is a blog for family vacations, we have to tell you about our accommodation. Check out shots of our awesome Airbnb stay at Base49, which looks like a container, but isn't! I actually asked the owner that question while booking it :) The kids were really looking forward to this stay, as they'd seen photos beforehand.
Packing Must haves for the Tongariro Alpine Crossing (with kids):
Disclaimer: If you and the kids are seasoned hikers, you'd obviously know what to pack. This list is really for those who, like us, who don't hike that much. Frankly, we are 100% city folk.
Comfortable backpacks: the kids each had a 10-20l pack, I carried a 30L and Dany a 40L pack.
Water: 2 litres each is ideal, but we ended up packing 750ml in each of the twins' backpacks, 1.5l each in the medium backpacks and 3l in the large backpack. Adan had a water bladder, which was very useful to keep the hands free while on the hike. We could have done with less (in December), but it's ideal to carry enough to stay hydrated even if you don't feel thirsty.
Food: small packed lunches, snack bars, nuts and Bliss Balls were very useful – with kids walking the Crossing can take longer than for adults, so there may not be much time to sit and eat.
A Fleece top (even in summer if you're not used to the cold)
A wind proof jacket with a hood
Polypropylene tops (UV cut, long sleeved tops if you don't like sunscreen)
Hiking pants (fleece lined ones if the temperature is low or you don't like the cold. We got cheap and cheerful ones for the kids from Uniqlo)
Comfy, moisture wicking socks
Sturdy hiking boots with good grip soles. My (Ava's) shoes were for hiking but the grip was not good enough to manoeuvre and keep balance on the scree as we went downhill.
Extra top/pants/socks in case you get rained on
First aid kit
A wad of toilet paper/flushable wipes
Vaseline: to prevent blisters on feet and chaps on lips from the wind
Sunblock – yes, even on cloudy days
GoPro: takes the most awesome photos and videos and was easy to carry around.
Optionals:
Hiking poles (at least 1 per person; 2 each if you can - we had TWO POLES altogether for the entire family, and we still made it through swimmingly, but the ache the next day...)
Ponchos: we were blessed with awesome sunny/cloudy weather without a drop of rain, and excellent visibility – you might not be!
A groundsheet if you are quick enough on the hike and have time for a picnic at the Emerald Lakes
Hat (or just make sure your jacket has a hood)
Eyedrops if you're wearing contacts. That wind was brutal!
Sunglasses
KT Tape for wobbly knees or strained l=calves/backs/feet (if you have 'em)
In spite of what we'd read in preparation for our hike, we saw people hiking in shorts and tank tops…I'm not sure how far they got along the Devil's Staircase where the wind was the strongest. Our driver Caleb, from Dempsey Buses, who waited an extra 1.5 hours for us (bless him and the bus company) to drive us back to Base49 told us about 3 teens (wearing T-shirts) who had suffered hypothermia a few weeks earlier, when they ventured off track in low visibility and needed to be helicoptered out…so better safe than sorry!
Tip 3: It's not over till it's over
19.4km, 1,900m elevation and 9 hours later, we made it!
However, if you are walking from Mangetepopo Carpark to Ketetahi, the last 2 hours can seem interminable - one website called it the "Neverending Rainforest". Truly, after 6+ hours of wondrous scenery through the volcanic landscape, 2 hours of scrub and rainforest is a bit boring and LOOOOOOONNNNGGGGGG.
After the extremely long hike - the duration and distance aside, the difficulty really lay in the elevation and managing the cold wind - we treated ourselves by being extremely messy (our clothes remained on the floor of the bathroom overnight - we could not be arsed to pick them up). We had a wonderful meal at The Powderkeg back in Ohakune and an early night's sleep.
The next day, the adults were in agony while the kids barely had a blister between them. I really should have packed our foam roller!
The Tongariro Alpine Crossing was an amazing, fun, scary, thrilling experience and one that Dany and I are so glad we did with the kids. As I've said in this post already, and to our friends patient enough to listen, we were awed, amazed, and filled with pride at our three amazing kids, who - city folk that they are - kept their complaints and fears to a minimum and just kept on chugging, keeping themselves occupied through the long day by picking up "gold" (stones) that caught their fancy and singing songs.
My awful rendition of Charlie Puth's Left Right Left kept us going through the walk... :)
Hmmm, We're almost there baby one more step




Oh, Left, right, left, right, left




Hmmm, We're moving on, we got no regrets




Oh, Left, right, left, right, left




Oh, Left, right, left, right, left




Oh, Left, right, left, right, left




Oh, We're almost there only one more step




Oh, Left, right, left, right, left





Hmmm...




I know it looks like it's too far




But it's nothing compared to how far we've come




Walking down this boulevard




When the darkest times come right before the sun
XXOO
Avalyn.